Current World Precious Metal Spot Prices
Last Update 758667 Minutes Ago (3rd Jul 2022 @ 02:05am)
Gold Price
in AUD
$2654.56

AUD
Silver Price
in AUD
$29.34

AUD
Platinum Price
in AUD
$1340.54

AUD
Palladium Price
in AUD
$2961.93

AUD
Current Payments For
Gold Jewellery & Scrap Gold
| Gold Purity Level | We Pay You |
| --- | --- |
| 24ct (99.9% Pure) Gold Items: | $76.73 Per Gram |
| 22ct (91.6% Pure) Gold Items: | $70.36 Per Gram |
| 21.6ct (90% Pure) Gold Items: | $69.13 Per Gram |
| 21ct (87.5% Pure) Gold Items: | $67.21 Per Gram |
| 20ct (83.3% Pure) Gold Items: | $63.98 Per Gram |
| 18ct (75% Pure) Gold Items: | $57.61 Per Gram |
| 15ct (62.5% Pure) Gold Items: | $48.01 Per Gram |
| 14ct (58.3% Pure) Gold Items: | $44.78 Per Gram |
| 10ct (41.6% Pure) Gold Items: | $31.95 Per Gram |
| 9ct (37.5% Pure) Gold Items: | $28.80 Per Gram |
| 8ct (33.3% Pure) Gold Items: | $25.58 Per Gram |
Current Payments
For Gold & Silver Bullion
| Bullion/Coin | We Pay You |
| --- | --- |
| 1oz 999 Gold Bar | $2386.57 Per Bar |
| 1oz 999 Gold Coin | $2386.57 Per Coin |
| 10oz 999 Gold Bar | $23865.70 Per Bar |
| 1kg 999 Gold Bar | $76730.00 Per Bar |
| 1 gram 24k Gold Granules | $76.73 Per Gram |
| 1oz 999 Silver Bar / Coin | $23.33 Each |
| 10oz 999 Silver Bar | $233.28 Per Bar |
| 1kg 999 Silver Bar | $750.00 Per Bar |
Current Payments For Silver
Jewellery & Scrap Silver
| Silver Purity | We Pay You |
| --- | --- |
| 99.9%+ Purity (999) Silver | $0.75 Per Gram |
| 92.5% Purity (925) Silver | $0.70 Per Gram |
| 90% Purity (900) Silver | $0.68 Per Gram |
| 50% Purity (500) Silver | $0.35 Per Gram |
| 32.5% Purity (325) Silver | $0.23 Per Gram |
Current Payments For Common
Gold & Silver Coins
| Coin Type | We Pay You |
| --- | --- |
| 1oz 999 Gold Coin | $2386.57 Each |
| 1oz Krugerrands | $2188.44 Each |
| $200 Gold Coins | $703.60 Each |
| Gold Sovereigns | $561.47 Each |
| Pre 1946 Florin / Shilling / Sixp | $0.70 Per Gram |
| Post 1946 Florin / Shilling / Sixp | $0.35 Per Gram |
| 1966 50c Silver Round Coin | $9.03 Each |
| Mexican Peso | $2799.97 Each |
Current Payments For
Platinum Jewellery & Bullion
| Platinum Purity | We Pay You |
| --- | --- |
| 99.9% Purity (999) Platinum | $1005.41 Per OZT |
| 99.9% Purity (999) Platinum | $32.32 Per Gram |
| 92.5% Purity (925) Platinum | $29.90 Per Gram |
Current Payments For
Palladium Jewellery & Bullion
| Platinum Purity | We Pay You |
| --- | --- |
| 99.9% Purity (999) Palladium | $2221.45 Per OZT |
| 99.9% Purity (999) Palladium | $71.42 Per Gram |
| 92.5% Purity (925) Palladium | $66.06 Per Gram |
We purchase almost all types of gold, silver, platinum and palladium.
If prices above do not match your specific item, you can call us to confirm whether we accept them.
Please note that customers who send us a package containing items with extremely low or no gold, silver, platinum or palladium content, will need to pay a small return postage fee.
This return fee is waived if some of your items are genuine precious metals (20% purity or higher) while some are fake / low quality.
Ready to sell your gold?
Request a mail pack using the form on this page and we will send you a return addressed satchel, packing items and full instructions on how to send us your gold.
In a hurry to sell? If you don't want to wait for our mail pack to arrive, simply download our DIY Gold Mail Postage Instructions for information on how to mail your gold to us.
Download DIY Gold Mail Postage Instructions
Request A Mail Pack Now
Complete the form below and we will send you a mail pack to sell your gold with us.
If you need help or have any questions at any time, please feel free to call us
Our Business Hours are 10:30am - 4:30pm Mon - Fri (Melbourne Time)
If you prefer to sell in person, we are part of the Australian Gold Capital Group with retail outlets in Victoria and Queensland.
For information on our retail store locations, please visit the Australian GoldCapital Website at
Track Your Mailed Gold
Order Online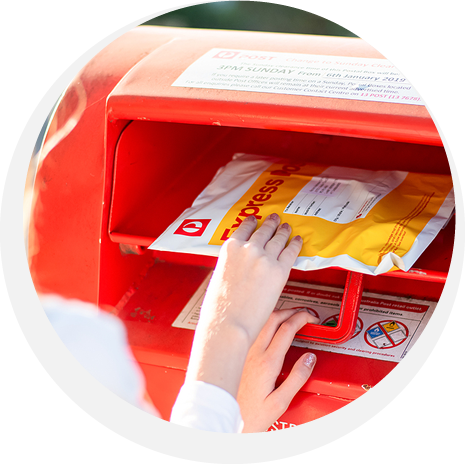 We will provide you a tracking login once we send you our gold pack, upon return of your mail pack our office will update your order status and email you to confirmation of receipt notice.
Note that this tracking will only update you with basic information on when the order arrived at the store, when payment has been made or when items are returned.
For sensitive information such as quote amounts or details of the items contained in the order, our staff will contact you by phone to discuss.
Track Your Order Here